About
MB Bride & Special Occasion began its operation under its owners, the Pedersons, in November 1991. The original store employed 3 sales associates, housed around 20 wedding dresses, around 25 bridesmaid dresses, a tiny tuxedo rental area, and some mother and flower girl dresses but no prom gowns.

Almost every three years after we expanded the store.
After about 5 years we decided to start offering prom gowns with a selection of maybe 70 dresses. The next year we offered more. And then more, and then more...

In 2004 we moved to our current building which is about eight times larger than our original store. Business was phenomenal! Within months, new gown storage was added and we doubled the amount of computers. We also carried about 300-400 prom gowns in stock.
In 2006, we began construction on our upstairs MB Prom area and enlarged our Alterations Department. Our MB Prom Store is bigger than our original store and houses 1000+ prom, homecoming, pageant, ball, formal and party dresses! We get dress shoppers from all over PA, eastern Ohio and West Virginia.

Our prom buyers go to Homecoming Market in May so we have fresh collections for homecoming. They go for an exhausting week to Atlanta in August to buy for Winter Dances and Prom.
Through many trials & tribulations, we have become 'PA's Largest Family Owned Bridal & Formalware Store' and have provided 26+ years of Award Winning Service! While we look back and feel blessed, we also look forward to the future. We are constantly looking for ways to improve & grow our business.

Below are images of our recent buying trip to Atlanta. See our staff with designer Jimmie Huang of Vienna Gowns and designer Ellie Wilde!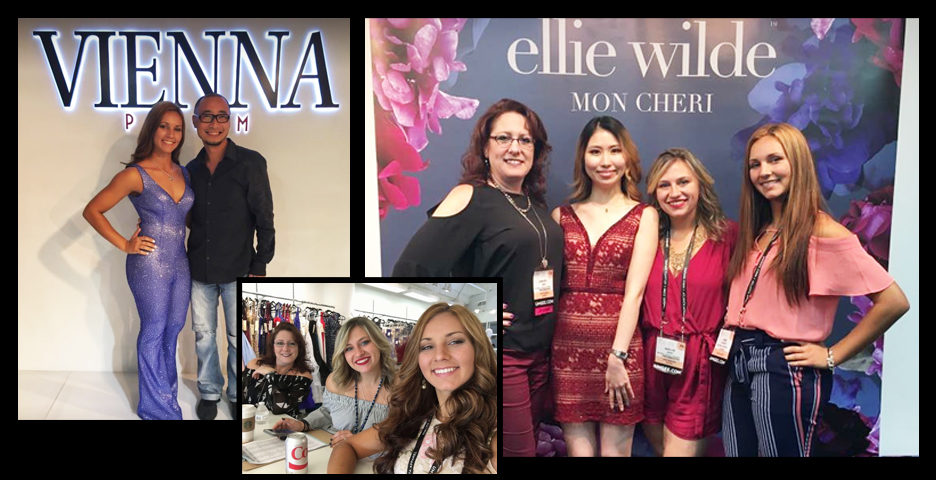 Below are some images of our prom store becoming our store Christmas party venue!